Coupons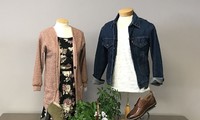 Text 'likenew' to 20673 to get coupons sent to your phone or JOIN OUR EMAIL CLUB ONLINE! You will save a lot of money!
TEXT COUPONS
text likenew to 20673
To receive coupons, sales & updates automatically to your phone!
1. Go into your screen where you would text someone.
2. In the same box that you'd type someones name or phone number, type: 20673
3. In same space that you'd type message, type likenew instead. Click send.
Messaging and data rates apply. You can opt out or terminate the mobile service at any time by texting STOP to 20673. Your information is NOT shared! No worries!
____________________
EMAIL CLUB
Sign up to receive our email updates and coupons.
Click here to join.
____________________
FAST CASH FRIDAY
Every Friday when you pay cash you will receive 20% off your entire purchase!
Maximum deduction is 20% off.

____________________
VIP MEMBERSHIP
VIP Membership cards can be purchased for $10! You will receive 10% off every purchase when card is present. You will receive a punch for every $10 spent.
25 punches = FREE $25 gift card
_________________
STAMPT LOYALTY CARD
As of December 31, 2018, we will be discontinuing the use of the Stampt app.
Wears Like New, LLC reserves the right to discontinue this program at any time. Any remaining stampts will have no value and cannot be redeemed for gift cards or discounts of any kind.