Coupons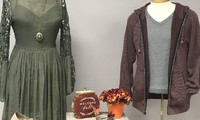 Text 'likenew' to 20673 to get coupons sent to your phone or JOIN OUR EMAIL CLUB ON LINE! You will save a lot of money!
The best way to receive coupons is to text likenew to 20673 so that our coupons, sales & updates will automatically be sent to your phone!
1. Go into your screen where you would text someone.
2. In the same box that you'd type someones name or phone number, type: 20673
3. In same space that you'd type message, type likenew instead. Click send.
Messaging and data rates apply. You can opt out or terminate the mobile service at any time by texting STOP to 20673. Your information is NOT shared! No worries!
____________________
Fast Cash Friday is every week at our Lemoyne Location!
Every Friday when you pay cash...we will deduct an additional 20% off the current price at the register... even if it is already 50% off. Friday is a great day to shop! You don't need a coupon...just cash! Maximum deduction is 20% off.

____________________
Lemoyne Location Loyal Customer Club!
Spend $20 receive a "Stampt"
10 "Stampts" = FREE $25 Gift Card

Get your FREE "Loyal Customer Club" App on your phone!
From your phone, go to front page of our web site under "What's New" & click "Join," click "Stampt."
Once you have App on your phone, touch the "Stampt."
At bottom of screen, touch "get stampt." Scan our code at the desk every time you spend $20! Done!


Program is valid at our Lemoyne Location only! This program may be discontinued at any time by Wears Like New, inc. Any remaining stampts will have no value and cannot be redeemed for gift cards or discounts of any kind.
About Our Loyal Customer Club Program:
Scanning our code will track your purchases automatically. Valid when using coupons. Maximum 4 Stampts per day company wide. Once you receive your FREE $25 gift card, your Stampt automatically starts over unless you delete it. Stampts will not be given out during storewide sales events. Stampts not permitted when purchasing gift cards. Terms subject to change as our Club progresses. Updates will always be on our web site.